Rome Museums
  Sightseeing  Rome is easy having  transport museums attractions and ticket right info ! 
Find here basic useful  info

we included   link  to their  official website  but in some cases they are connected to commercial pages which are not related to us.
Plan in advance your visit  in Rome.
Rome has three subway line :
A Line  (red orange),
B Line (blue),
C Line .
There are also many other city rails which connects many parts of Rome 
 Italy : emergency number is 112

Keep always with you a COPY of your ID card or passport and the phone number of your embassy
Remember that the buses at night runs quite less often then at daytime
Saint Peter's Basilica and  Vatican are a must to see here in Rome ! 
Vatican is  the smallest state of the world . St Peter's Basilica is actually a  foreign country also for Rome residents. Visiting   the Vatican Museums and St Peter's Basilica and Square is a must to do in Rome.
Here you can  book your  visit  skipping line and mediators, remember that
Vatican Museums tickets include Sistine Chapel and Saint Peters Basilica;
ROMAN MUSEUMS
 Rome Museums close on Mondays.
 Coliseum and Caracalla are always open.
If you want to visit to the Coliseum and the Forums  Area remember that the tickets last 2 days, this year on some dates you can also visit the 3rd ring , don t miss this opportunity ! Book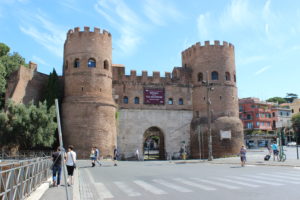 Musei Capitolini   are the most ancient public museums of the world founded by Pope Sisto IV in 1471, they definitely worth a visit!
Galleria Borghese is one of the most beautiful museums of Rome inside the Villa Borghese. There you can see  masterpieces  XVII and XVIII century; to visit it you need to book in advance, do it here .
the previous link permits also to book all the Museums in Rome city area

If you want to save some money and have enough time to visit many museum you can buy a Roma Pass.
Contact US to get more information