Rome in 1 Day !
  Rome in 1 day !
Are you arriving in Civitavecchia port and wish to see the most of the city in 1 day only ? 
Book with us your shore  excursion and in a day we ll plan your day as to include Coliseum and Vatican , and all th4 must to see of the Eternal City ! 
Your English speaking driver will be meeting you at your ship pier ,
7.30 /8.00 am with a board
Then you 'll drive along the high which connects
Civitavecchia to Rome , you ll be driving in the Etruscan  area, north of Rome passing by the ancient Pirgy, and Cerveteri, running parallel to the ancient Aurelia  road which connected Rome to Pisa and later to Lygurian territories.
 It takes about 90 minutes to get to Rome, you ll enter the city from the Ostiense  area  and then you ll vsit the Orange Garden and the Rose Garden, leading  to the Circus Maximus and . the Coliseum,  where you can opt to book  the entrance or not , up to your wish!
Consider at least 90 minutes if you wish to explore the Coliseum inside!
After the Coliseum we set a "condensed" itinerary for you, including Pantheon , Spanish steps, Trevi fountain,piazza Venezia with its "typewriter" ending in Piazza Navona , all of this by lunchtime;
The afternoon will be devoted to Vatican and Sistine Chapel , if you opt for the inside tour , then you ll be back to @your ship pier ! 
With  memories, smiles  and may be friends to bring with you !!!! 
Here you can  book your  visit  skipping line and mediators, remember that
Vatican Museums tickets include Sistine Chapel and Saint Peters Basilica, of course we can do that for you if you prefer, no adding fee;
We can also book for you Coliseum if you wish, always no adding fee😊
If you want to visit to the Coliseum and the Forums  Area remember that the tickets last 2 days, this year on some dates you can also visit the 3rd ring , don t miss this opportunity ! Book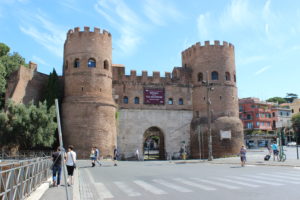 If you already have visited Coliseum and Vatican
Musei Capitolini   are the most ancient public museums of the world founded by Pope Sisto IV in 1471, they definitely worth a visit!
Galleria Borghese is one of the most beautiful museums of Rome inside the Villa Borghese. There you can see  masterpieces  XVII and XVIII century; to visit it you need to book in advance, do it here .
the previous link permits also to book all the Museums in Rome city area

Contact US to get more information